Vanilla-friendly West Gash Tree Replacer
by
Melchior Dahrk
This replacer was created as an alternative for players who desire a look closer to the vanilla game for the region. The vanilla models were smoothed, optimized, had their UVs tweaked, or were just made from scratch in some cases. The West Gash tree set is pretty sparse of leaves in the vanilla game with only 2 out of 8 models having leaves on them. But those two models have been overhauled with more leaf models added to make them look fuller; and new twig and limb models have been added to all trees to improve the detail, even when up close.
This is both a model and texture replacer for the West Gash trees. The textures have been modified to match the vanilla colors and style but are high resolution.
The stump and root models in the West Gash have also been included. With more detail being added and smoothing the meshes.
This mod also affects gameplay by improving the accuracy of the collision models on the trees so you can now stand on limbs. This was accomplished with no performance impact by splitting up the collision model into multiple pieces (collision is calculated in a radius around each individual model).
***There are two options for the leaf textures. If you prefer the lighter, leafier version, be sure to install the "01 Leafy" folder and place it in your Data Files/Textures folder!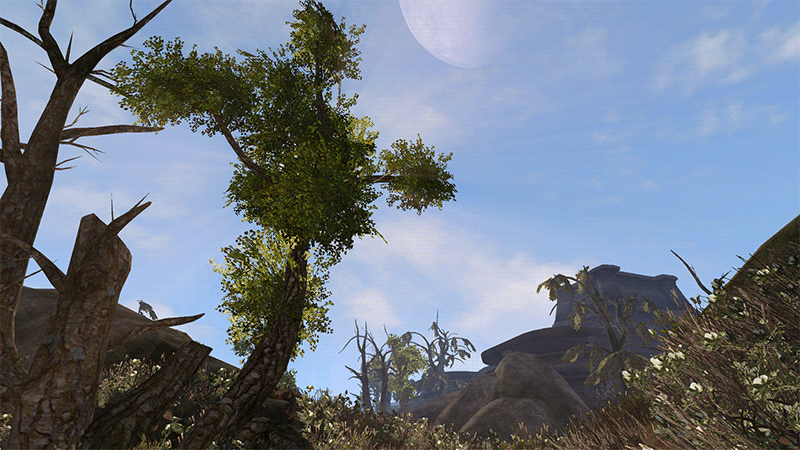 Edited by MelchiorDahrk
---
Released
V.2.5 - Removed billboards option. Added NiCollisionSwitch to leaves to improve performance during rainy weather. Removed double sided property from some trunk shapes. UV fixes. Added Ashfall trees patch.
Copy the contents of 00 Core to the Morrowind Data Files folder. This is a pluginless replacer.
01 Leafy includes a leafier texture for the trees rather than the pine-like one included by default.
Permissions:
You are free to:
Adapt - remix, transform, and build upon the material
Under the following terms:
Attribution - You must give appropriate credit.
Non-Commercial - You may not use the material for commercial purposes (i.e. no payment of monetary compensation as a condition for the download).
If author(s) is/are not able to be contacted through a reasonable effort,
Then you are free to copy and redistribute the material in its entirety for use in The Elder Scrolls III: Morrowind
Credits:
Vurt - Textures based on Vurt's work
Greatness7 - Normal patch script and collision research collaboration